Image: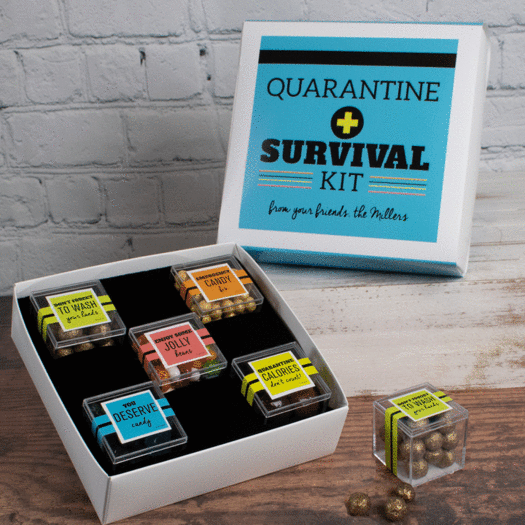 Item #6838
Rating: 5 Stars
Category: Gifts Ideas
Title: Personalized Quarantine Survival Kit | Just Candy
URL: https://www.justcandy.com/products/qcp8-5gb-personalized-quarantine-survival-kit-care-package-premium-gift-box-with-5-just-candy-favor-cubes
User's Notes:
Just Candy is all about personalizing your sweets, but these days of self distancing it is also used for surprising and letting someone you care about them. There's a variety of products and designs, all customized by you. The affiliate program is at Flex Offers.
User Selected Text:
<p class="MsoNormal" style="direction: ltr; unicode-bidi: embed;"><b>Description:<o:p></o:p></b></p><p class="MsoNormal" style="direction: ltr; unicode-bidi: embed;">CubeFills: Jelly Belly Jelly Beans, Gummy Bears, Sparkling Prosecco Cordials, Milk& Dark Chocolate Sea Salt Caramels, Birthday Cookie Crunch<o:p></o:p></p><p class="MsoNormal" style="direction: ltr; unicode-bidi: embed;">BoxDimensions: 9 1/2" x 7 3/4" x 2 1/4"<o:p></o:p></p><p class="MsoNormal" style="direction: ltr; unicode-bidi: embed;">Candyfills subject to change due to availability<o:p></o:p></p>
CTA Text: CHECK OUT