Image: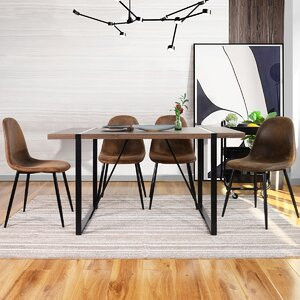 Item #9774
Category: Dining
Title: George Oliver Eckard 5 - Piece Dining Set & Reviews | Wayfair
URL: https://www.wayfair.com/furniture/pdp/george-oliver-eckard-5-piece-dining-set-w000827708.html?categoryid=46025&placement=1&slot=0&sponsoredid=0dd01dbacd1ab805c252d862af82dd6192249f252c1169d41f0a43a2a9e0c6af&_txid=I%2BF9OmCKjdcTHRFWEEQSAg%3D%3D&isB2b=0&auc
User Selected Text:
Coated in a sturdy steel metal base, the tabletop is made of high-quality MDF finish, the dining set proves to be small in scale, yet big on style. The rectangular tabletop is perfectly sized for apartment living, or for a compact breakfast nook. Complete with contoured seating and a curved back, your friends and family will enjoy sitting around and chatting long after mealtime has ended.
CTA Text: VISIT SITE