Image: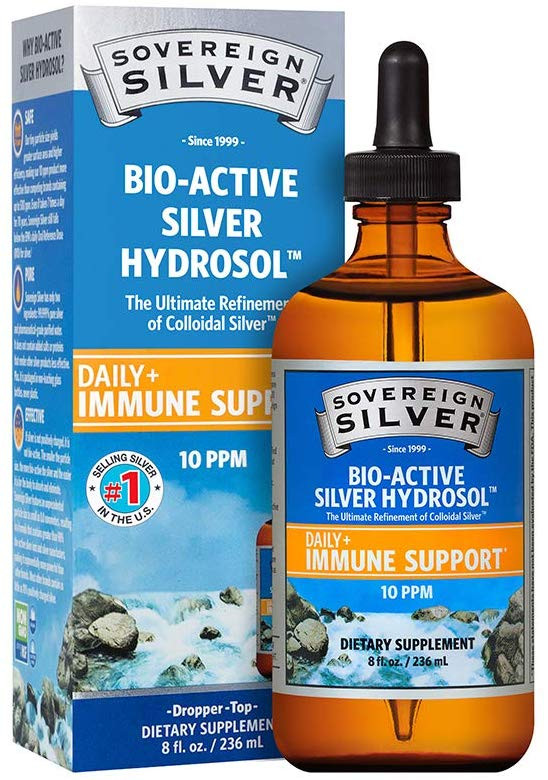 Item #6331
Category: Health
Title: Sovereign Silver Bio-Active Silver Hydrosol for Immune Support - 10 ppm, 8oz (
URL: https://www.amazon.com/gp/product/B00XQF5SXU/ref=ppx_yo_dt_b_asin_title_o04_s00?ie=UTF8&psc=1
User Selected Text:
POWERFUL IMMUNE SUPPORT* FROM THE UNDISPUTED LEADER IN COLLOIDAL SILVER - Sovereign Silver is the premium silver supplement in North America for immune support*, trusted by millions for over 18 years for its unprecedented safety*, quality and efficacy*. Bio-Active Silver Hydrosol represents the ultimate refinement of the colloidal silver category. It contains more than 98% bio-active silver ions and silver nanoclusters, in pharmaceutical-grade purified water.<br /> <br /> <br /> <br /> <br /> THE RIGHT DOSE, CONCENTRATION, AND PARTICLE SIZE - Our colloidal silver technology is the best and most advanced in the industry. Sovereign Silver features an unprecedented particle size as small as 0.8 nm (nanometers). No other colloidal silver can prove the same. The smaller the silver particles, the greater the surface area and the easier for your body to absorb and excrete - making our 10 ppm concentration more effective* and safe* than competing brands.<br /> <br /> <br /> <br /> <br /> GLASS BOTTLES, NOT PLASTIC - We produce the highest quality product available and we ONLY bottle in glass to afford the maximum care and protection available, regardless of the more costly shipping fees and bottles. Glass bottles are crucial to ensure the stability and quality of Bio-Active Silver Hydrosol. Other sellers of colloidal silver use plastic bottles which may contain organic impurities, can degrade over time, and may leach into the colloidal silver solution itself.<br /> <br /> <br /> <br /> <br /> HIGHEST SAFETY*, PURITY AND EFFICACY* - Sovereign Silver has only two ingredients: 99.999% pure silver and pharmaceutical-grade purified water. Our dose is effective* and safe* - even if taken 7 times a day for 70 years, Sovereign Silver still falls below the EPA's reference dose (RfD) for silver. Our silver hydrosol contains more than 98% bio-active silver ions and silver nanoclusters. Sovereign Silver is vegan, gluten free, non-GMO and allergen-free.<br /> <br /> <br /> <br /> <br /> HISTORY'S BEST KEPT SECRET - Sovereign Silver represents the intersection of a long healing* tradition and state-of-the art modern science. Silver is a natural element that can be found in whole grains, mushrooms, mammalian milk, and water. It has been used medicinally for more than 2,000 years, and Hippocrates wrote of silver's healing and anti-disease properties in his medical texts. Colloidal silver was a preferred choice of physicians in the 1930s, before the advent of antibiotics.
CTA Text: SHOP