Image: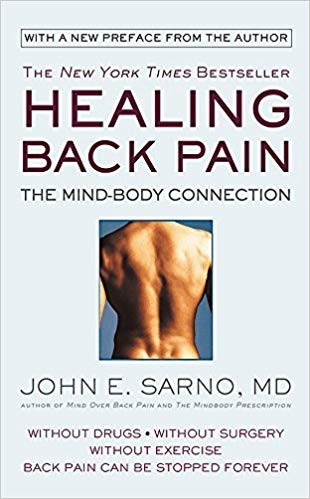 Item #6328
Category: Books
Title: Healing Back Pain: The Mind-Body Connection: John E. Sarno MD
URL: https://www.amazon.com/Healing-Back-Pain-Mind-Body-Connection/dp/153871261X/ref=dp_ob_title_bk
User Selected Text:
Dr. John E. Sarno's groundbreaking research on TMS (Tension Myoneural Syndrome) reveals how stress and other psychological factors can cause back pain-and how you can be pain free without drugs, exercise, or surgery.<br /> <br /> Dr. Sarno's program has helped thousands of patients find relief from chronic back conditions. In this New York Times bestseller, Dr. Sarno teaches you how to identify stress and other psychological factors that cause back pain and demonstrates how to heal yourself--without drugs, surgery or exercise. Find out:<br /> Why self-motivated and successful people are prone to Tension Myoneural Syndrome (TMS)<br /> How anxiety and repressed anger trigger muscle spasms<br /> How people condition themselves to accept back pain as inevitable<br /> With case histories and the results of in-depth mind-body research, Dr. Sarno reveals how you can recognize the emotional roots of your TMS and sever the connections between mental and physical pain...and start recovering from back pain today.
CTA Text: SHOP