Image: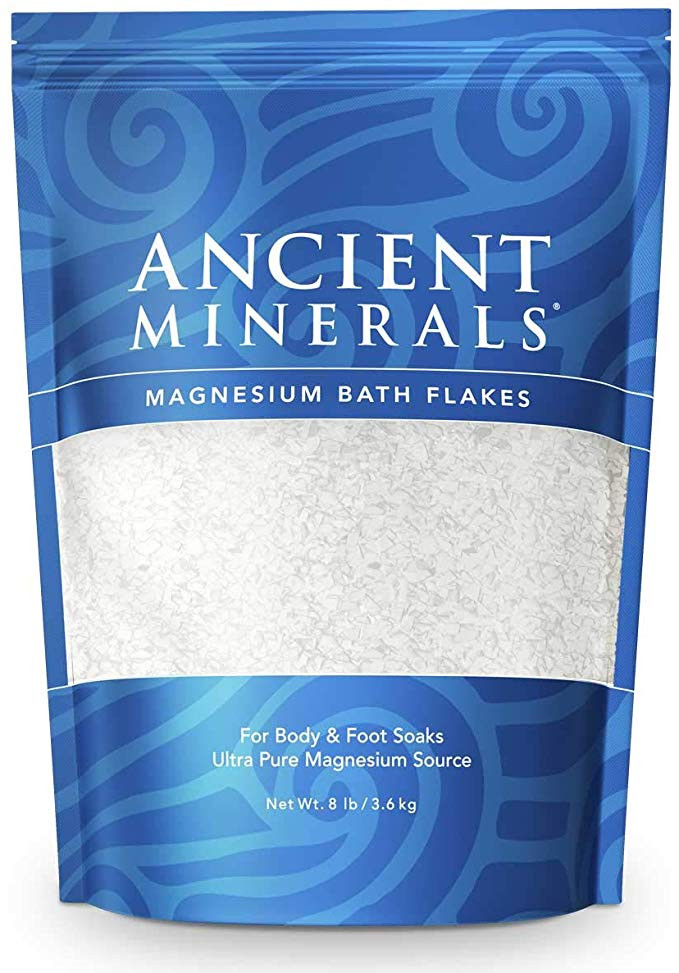 Item #6327
Category: Health
Title: ncient Minerals Magnesium Bath Flakes of Pure Genuine Zechstein Chloride
URL: https://www.amazon.com/gp/product/B00BBD508C/ref=ppx_yo_dt_b_asin_title_o03_s00?ie=UTF8&th=1
User Selected Text:
ORGANIC MAGNESIUM BATH FLAKE PURIFICATION: Magnesium Flakes offer a highly effective, yet muscle calming, means of absorbing magnesium nutrients. Choose between the unmatched benefit of an immersive bathtub full body bath wash, or quicker convenient foot tub bath soak. Research has proven topical magnesium chloride to be a more effective administration method when matched with leading oral supplements.<br /> <br /> <br /> <br /> <br /> MAGNESIUM CHLORIDE FLAKES VS EPSOM SALT: Bath flakes are made from magnesium chloride. Epsom salts are magnesium sulfate. Although both forms absorb magnesium better than oral magnesium supplements, magnesium chloride is much better suited for topical application. Flake Baths are great for stress relief, sore muscle recovery, improving circulation, headaches, joint pain, restless leg syndrome, cramps, and is a more sensitive application than other transdermal techniques.<br /> <br /> <br /> <br /> <br /> ONLY THE PUREST & HIGHEST CONCENTRATED MAGNESIUM SOURCES: Genuine Zechstein magnesium chloride is sourced 1500 meters underground in the Zechstein Seabed, 250 Million Years in the Making, this seabed is the purest magnesium source in the world. All Ancient Minerals products are organic, produced from the best raw materials, and formulated in the United States at FDA certified facilities.<br /> <br /> <br /> <br /> <br /> MAGNESIUM BATH APPLICATION INSTRUCTIONS: With water, dissolve 1-3 cups of dry flakes into a warm footbath massage spa or full tub and liquid soak for 30min or longer. You may dissolve up to 8lbs of flakes in a full tub for a more intense application. Temperature of the water should be warm, but not hot for optimal absorption of magnesium chloride. Hot water can cause the skin to eliminate mag chloride and other trace minerals rather than absorbing through the skin, hands, feet, and body.<br /> <br /> <br /> <br /> <br /> #1 TRUSTED NAME IN CONCENTRATED TOPICAL MAGNESIUM PRODUCTS: Since 2007 Ancient Minerals by Enviromedica, has produced the highest quality topical flakes, essential oil, goodnight lotion, miracle cream, and aloe vera gel magnesium. With the best research and more doctors and PHD recommendations than any brand, make sure that you are using only the best source for Ultra Pure Topical Magnesium. Bath Flakes are a great holiday gift idea for kids, women, mom, grandma, or any family member.
CTA Text: SHOP