Image: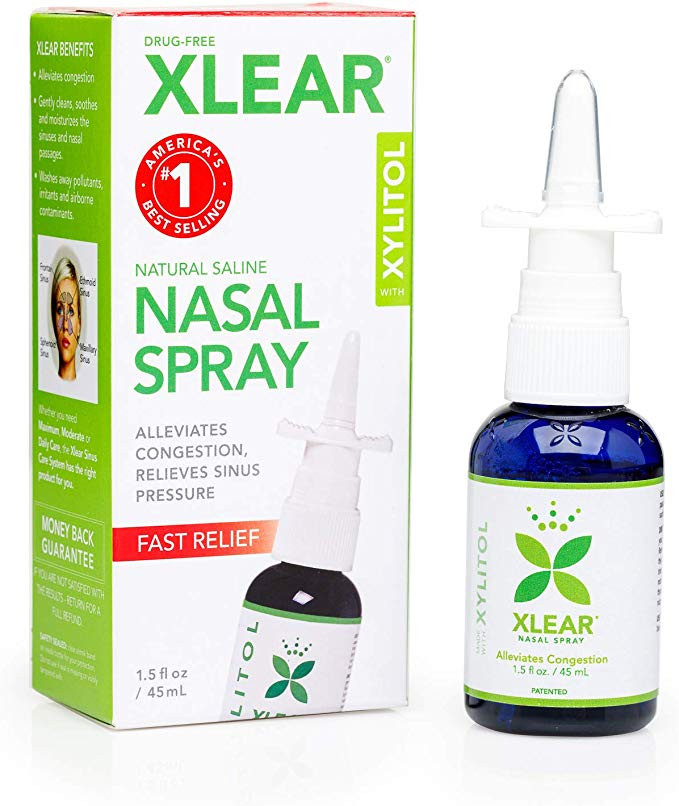 Item #6322
Category: Health
Title: XLEAR Nasal Spray, 1.5 Fl Oz, All-Natural Saline and Xylitol
URL: https://www.amazon.com/dp/B000M4W2E6/ref=twister_B07BT9PNGF?_encoding=UTF8&psc=1
User Selected Text:
XLEAR NASAL SPRAY WITH XYLITOL: Our nasal saline spray will gently clean and moisturize the sinus and nasal passages to help with congestion relief. Unlike other normal saline nasal sprays our spray also acts as a nasal decongestant by targeting the primary causes of nasal congestion. Our nose spray will help reduce tissue swelling from pollen, pollution, bacteria and all other irritants or airborne contaminants.<br /> <br /> <br /> <br /> <br /> SAFE NASAL RINSE & SPRAY: Our all natural nasal cleaner is safe for kids, non-addictive and Non GMO Project Verified and is effective without the use of steroids, drugs or chemicals. It's the ideal daily sinus medicine that will reduce swelling and open your airways. Use our saline nose spray before bed to help reduce snoring.<br /> <br /> <br /> <br /> <br /> IMPROVED FORMULA WITH XYLITOL: Our patented saline nasal spray solution reduces tissue inflammation and naturally opens airways. Xylitol's powerful oral and upper respiratory health benefits come from its unique five-carbon structure. Xylitol helps to reduce swelling and allergy symptoms by reducing bacterial adhesion on you nasal tissue.<br /> <br /> <br /> <br /> <br /> EASY TO USE DIRECTIONS: Clear the nasal passageway by gently blowing your nose before using Xlear. Prime the pump by holding the sinus rinse bottle upright and pumping one or more times until the saline solution is dispensed. Insert nozzle into nostril and depress pump completely while breathing in through your nose. Spray each nostril 2-4 times and use at least twice daily.<br /> <br /> <br /> <br /> <br /> FAST SINUS PRESSURE RELIEF: Our natural saline nasal spray will wash away pollutants and help to bring relief to chronic sinus infection. Use our sinus spray daily to protect and keep your nasal passages clean. Each 1.5 oz bottle delivers approx. 240 fine mist Sprays so you can find fast and quick relief.
CTA Text: SHOP