Image: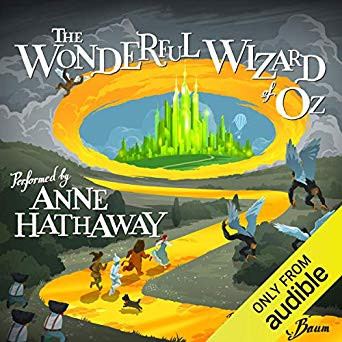 Item #5699
Rating: 5 Stars
Category: Books
Title: The Wonderful Wizard of Oz (Audio Download): Amazon.co.uk: L. Frank Baum, Anne H
URL: https://www.amazon.co.uk/gp/product/B007IJUXP8?ie=UTF8
User's Notes:
Audie Award Nominee, Solo Narration - Female, 2013 One of the best-known stories in American culture, The Wonderful Wizard of Oz has stirred the imagination of young and old alike for over 100 years. Academy Award-winning actress Anne Hathaway (Rachel Getting Married, Alice in Wonderland, The Dark Knight Rises) lends her voice to this uniquely American fairy tale. Follow the adventures of young Dorothy Gale and her dog Toto as they get swept away into the magical land of Oz , where they encounter characters and places you may remember from the movie - and several more that never made it to the big screen - on an unforgettable journey to the Emerald City. "It's such a wonderful book and I was so happy to be a part of bringing it to life", Ms. Hathaway said. "There are a lot of great voices in it. The more fun you have with it, the sillier and the more free you get with it, the better it is because it's a story that can handle it. It's amazing to be able to discover something new about something you feel you know so well."
User Selected Text:
#1 Best Seller
CTA Text: SHOP