Image: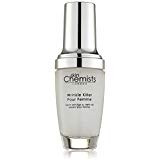 Item #461
Rating: 5 Stars
Category: Skin Care
Title: PCA Skin Acne Cream, 0.5 Ounce : Facial Treatment Products : Amazon
URL: http://www.amazon.com/PCA-Skin-Acne-Cream-Ounce/dp/B0001EL5R2/ref=lp_2598262011_1_8?srs=2598262011&ie=UTF8&qid=1454167720&sr=8-8#customerReviews
User's Notes:
This cream has became a must have item in our house. It is the most efficient product we found so far for dealing with moderate teenage acne of my daughters. Definitely worth giving it a try.
User Selected Text:
By<br /> <br /> Laura Healy<br /> <br /> on October 18, 2011<br /> Verified Purchase<br /> <br /> <br /> <br /> <br /> <br /> <br /> <br /> <br /> I ordered this product (and the cleansing skin bar with sulfur) for my college-age daughter who has been battling bad acne for 3 years now. We tried acne.org; dermatologist with Differin, EpiDuo, antibiotic prescriptions; and lastly birth control pills. NOTHING worked. We didn't want to resort to Accutane, so I bit the bullet, saved some money, and ordered this product and the PCA sulfur cleansing bar. My daughter Skyped me to show me the difference in her skin WITHIN 3 days - she uses this cream twice a day (every 12 hours) after washing with the skin bar product. And that's ALL she has been doing - her skin is incredibly clear of blemishes and is absolutely glowing! I will follow up within 3 months to let you all know if it continues to work, but so far, I am incredibly IMPRESSED. So, if none of the above treatments I mentioned are working for your teenager, try these 2 products. They have a money-back guarantee, which is assuring. I ordered through Divine Skin - they also included generous samples of other products in the box.
CTA Text: SHOP