Image: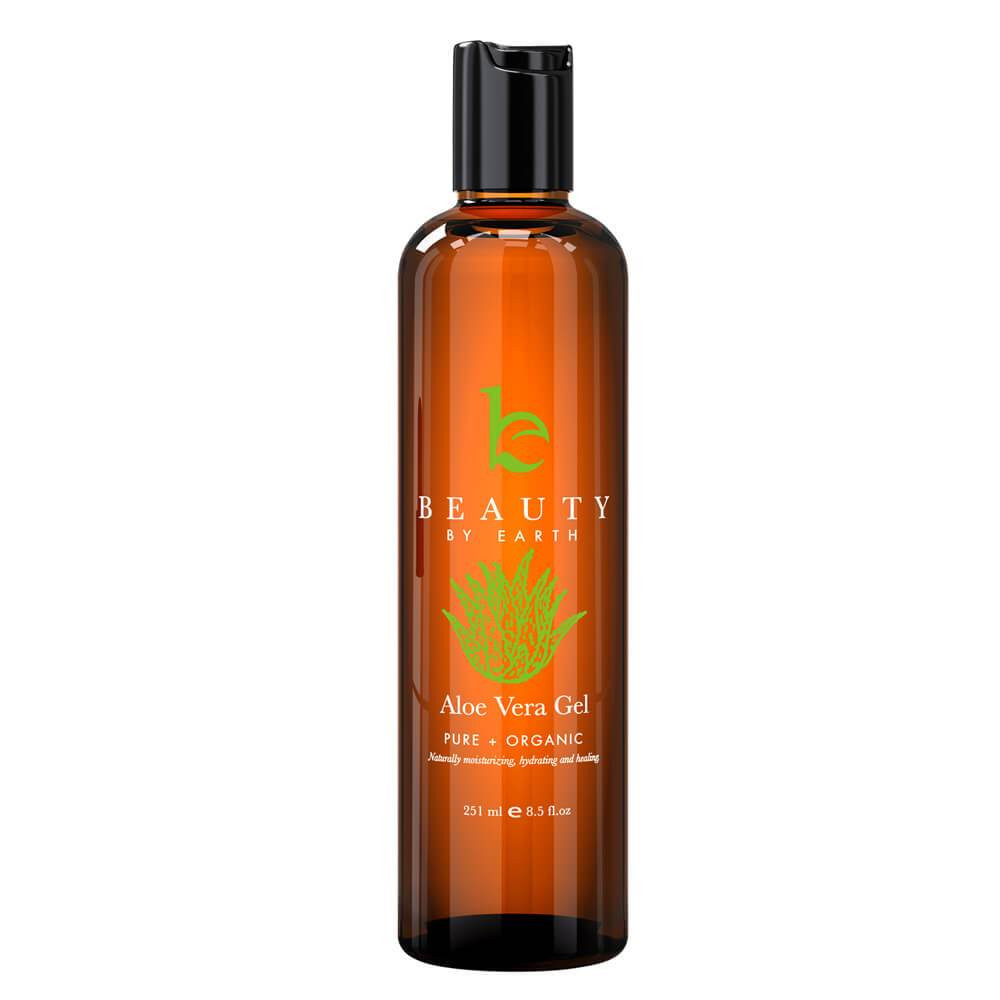 Item #3941
Rating: 5 Stars
Category: Skin Care
Title: Aloe Vera Gel – Safe & Chic AmazonAmerican ExpressApple PayDiners ClubDiscoverJCBMastercardPayPalVenmoVisa
URL: https://www.safeandchic.com/collections/beauty-by-earth/products/aloe-vera-gel
User Selected Text:
Your skin works hard – give it a little something back with Beauty by Earth's 98% Organic Aloe Vera Gel. It's the next best thing to the plant itself, giving you a reliable and natural solution to life's little irritations. Vegan and Gluten free.<br /> <br /> <br /> A NATURAL SOLUTION TO EVERYDAY PROBLEMS: Want healthy skin? Organic Aloe vera gel does that. Want to reduce razor burns? Aloe vera does that. Need a natural solution to diaper rash? Aloe vera does that. Want to soothe bug bites, reduce itching, remove makeup, condition your hair, or stimulate collagen growth? Aloe vera does… well, you get the picture!<br /> <br /> A FIRST AID KIT IN A BOTTLE: People have used organic aloe vera for millennia for its unique natural properties. Chock full of disinfectant, antimicrobial, antibacterial, antiseptic, antifungal, and antiviral properties, it earns its place in any first aid kit.<br /> <br /> RECOVER FROM THE SUN: Sunburns are no fun. Soothe away minor burns like sunburns and cooking mishaps naturally with our organic aloe vera gel. Keep it in the fridge for extra cooling relief.<br /> <br /> JUST THE GOOD STUFF: Our gel is 98% organic aloe vera. We've added small amounts of Vitamin C, Vitamin E, Radish Root Ferment FIltrate, and Sodium Citrate to give your skin some extra love. What we haven't added? Parabens, phthalates, sulfates, artificial colors or fragrances, or any other nasties.<br /> <br /> The Natural Way to Do it<br /> How many different ways can you use organic aloe vera gel? We'd start counting but it would take all day. Packed with over 200 active components, including minerals, vitamins, amino acids, enzymes, and fatty acids, aloe vera gel is the swiss army knife of the natural health and beauty world. Use it as a moisturizer for soft, healthy, and young looking skin. Apply to minor burns to soothe away the sting and create the perfect environment for healing. Use it after shaving to reduce razor burn, as a conditioner for lustrous locks, as a refreshing pre-makeup moisturizer, or as a natural way to keep diaper rash at bay.<br /> We think aloe vera gel is best as it is. That's why each bottle is filled with 98% organic aloe vera gel. No toxic additives. No artificial colors or fragrances. Just the natural aloe your skin, hair, and body loves<br /> By ditching the phthalates, parabens, artificial fragrances, and other junk, our aloe vera gel is safe and gentle for all skin types and ages. And because we prioritize sustainable sources and refuse to test on animals, you'll never have to worry about the impact your purchase has on the environment. So experience the many (many) ways organic aloe vera gel can make your life easier, healthier, and just plain better. We know you're gonna love what it can do.