Image: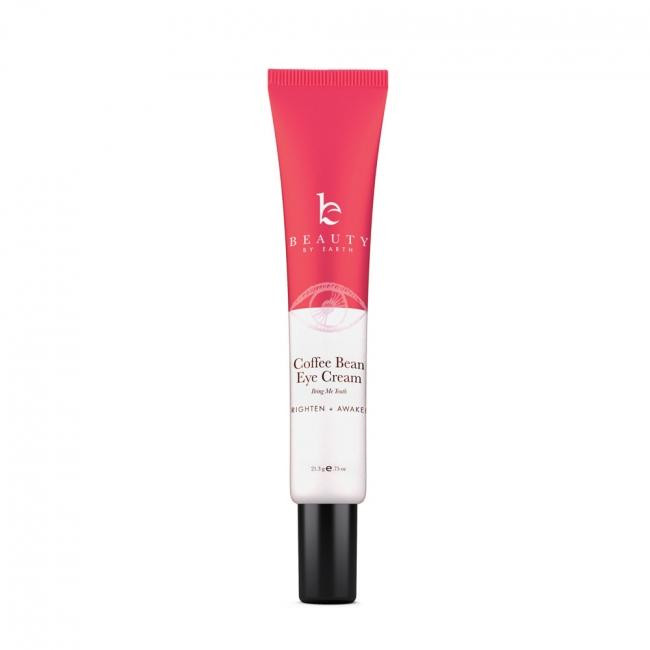 Item #3937
Rating: 5 Stars
Category: Skin Care
Title: Coffee Bean Eye Cream – Safe & Chic AmazonAmerican ExpressApple PayDiners ClubDiscoverJCBMastercardPayPalVenmoVisa
URL: https://www.safeandchic.com/collections/beauty-by-earth/products/eye-cream-1
User Selected Text:
Take your eyes from sleepy to stunning with our natural eye cream. Enhanced with coffee seed extract, this cream will gently nourish the delicate skin around your eyes, leaving you looking bright, awake, and ready to take on the world. Vegan & Gluten Free<br /> <br /> <br /> YOUNGER, BRIGHTER EYES – NATURALLY: Our natural eye cream will change the way you look at the skin around your eyes. Full of our favorite nourishing and moisturizing ingredients, it adds moisture and nutrients to delicate under-eye skin. Get ready to say "bye bye" to under eye bags and "hello" to a brighter and more youthful complexion.<br /> <br /> HARNESS THE POWER OF COFFEE: You drink it to wake up your mind, but did you know that coffee can wake up your eyes as well? The coffee seed extract we've included in our natural eye cream helps soothe puffy eyes, reduce bags, and reduce the signs of aging. All that and you won't even get the jitters.<br /> <br /> TREAT YOUR EYES RIGHT: The skin around your eyes is extremely delicate. We want to take good care of it – and you! That's why we've only included gentle natural and organic ingredients. Organic oils and butters blend with extracts of pineapple, cranberry, and cucumber to soothe and nourish even the most sensitive of skin.<br /> <br /> ONLY THE GOOD STUFF: Don't jeopardize your skin by using products with low quality components! We only use ingredients that are proven to be safe for your health and great for the environment. This eye cream has never been tested on animals and is packaged in earth-friendly materials, so you'll never have to choose between beauty and responsibility.<br /> <br /> Send Those Bags Packing!<br /> Tired of tired-looking eyes? Done with puffiness and dark circles? Ready to give wrinkles a run for their money? We hope so! Our natural eye cream has everything your peepers need to look their best. Use it twice a day to soothe puffiness, reduce bags, and help slow the signs of aging.<br /> The secret? Like so many other things in life, our eye cream runs on caffeine. We've added coffee bean extract to a special formulation of natural and organic oils and butters. The caffeine will wake your eyes right up, helping to reduce the water retention that leads to bags and dark circles. Plus you'll be supporting the delicate skin around your eyes with plenty of all-natural moisturization.<br /> All of our ingredients, right down to the coffee extract, come from responsible sources. Our eye cream is cruelty free and made in the USA. High quality, responsible, and effective – in other words, exactly what your gorgeous complexion deserves. See the difference a natural eye cream can make – you'll never look better!