Image: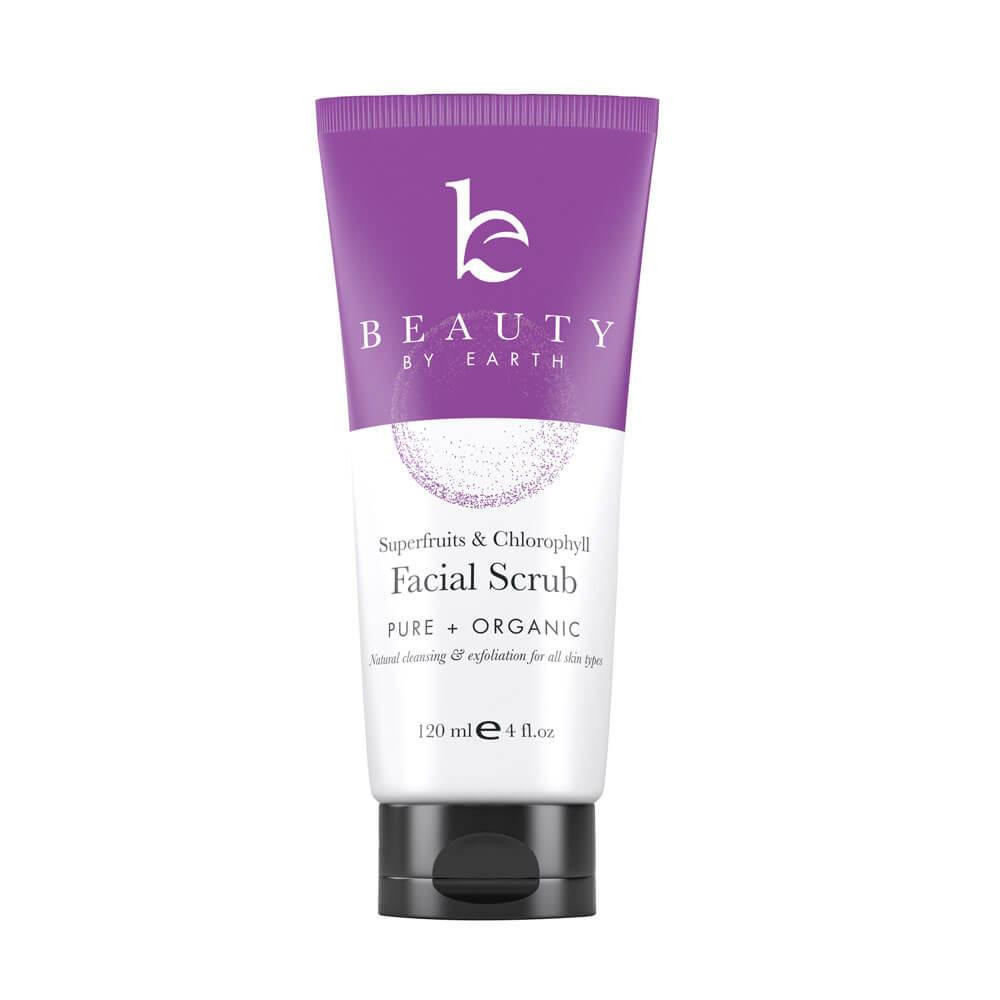 Item #3935
Rating: 5 Stars
Category: Skin Care
Title: Facial Scrub – Safe & Chic AmazonAmerican ExpressApple PayDiners ClubDiscoverJCBMastercardPayPalVenmoVisa
URL: https://www.safeandchic.com/collections/beauty-by-earth/products/facial-scrub
User Selected Text:
Stop blackheads, blemishes, and breakouts in their tracks: our exfoliating facial scrub is the perfect solution for all your skincare woes. With a balanced combination of chlorophyll, super fruit extracts, and hydrating ingredients, this 2-in-1 face wash and scrub gently cleans and exfoliates at the same time.<br /> <br /> <br /> DISCOVER YOUR BEST COMPLEXION: No face is immune to the effects of a long day. Clear away dirt, oil, dead skin, and grime with our natural exfoliating facial scrub. We've filled our face scrub and cleanser with ingredients that hydrate, repair, and support your skin while gently cleaning away anything that could tarnish your complexion. The result? A face that feels light, clean, clear, and happy.<br /> <br /> <br /> <br /> KICK ACNE TO THE CURB: As one of the best acne face washes out there, our exfoliating facial scrub and cleanser is the perfect way to keep breakouts at bay. Use it 2-3 times a week to support healthy skin and discourage breakouts. Because it contains chlorophyll and fruit extracts, our natural cleanser has antimicrobial properties. That means it will discourage the bacteria that can lead to breakouts while supplying your skin with plenty of hydrating and anti-aging compounds.<br /> <br /> <br /> <br /> PUT YOUR BEST FACE FORWARD: It's nearly impossible to feel confident when your face isn't looking its best. That's why we designed our facial scrub to provide two complexion-boosting benefits in one. Not only does it clear away makeup, dirt, and grime, it also gently exfoliates. That means anyone of any age, gender, or skin type can experience how great it feels to greet the world with skin that's incredibly clean, clear, and glowing.<br /> <br /> <br /> <br /> FEED YOUR SKIN: Your skin is hungry – give it what it craves! We've carefully formulated our exfoliating facial scrub to contain the nutrients and compounds your skin needs to look its best. We've also left out anything toxic, irritating, or dangerous, so you'll never have to worry about what you're putting on your body. Completely natural and 100% cruelty free, this scrub will support your skin from the outside in.<br /> <br /> Stop blackheads, blemishes, and breakouts in their tracks.<br /> It's hard to feel confident if your complexion is dull, dirty, or covered with acne. Get rid of everything that gets between you and a glowing complexion with our natural facial scrub. One part exfoliator and one part cleanser, our exfoliating face wash clears away dirt, oil, and grime and helps fight acne for all skin types and ages.<br /> What's the secret? A carefully designed blend of naturally hydrating and nourishing ingredients. Packed with super fruit extracts and chlorophyll, our facial scrub gently clears away debris while giving your skin a healthy dose of vitamins and anti-aging compounds. Use it 2-3 times a week and watch your skin transform from dull and acne-prone to bright, light, clear, and glowing.<br /> Think you need to use harsh soaps and chemical-laden scrubs to get clear skin? Think again. We use only natural ingredients to clear, cleanse, and nourish your complexion – nothing irritating, toxic, or unsustainable. Even better, all of our products are Leaping Bunny certified, so you'll never have to wonder if your scrub has been tested on animals. Order our scrub today and give it a try. Don't wait to start enjoying how it feels to face the world with a complexion that's unbeatably clear and bright.
CTA Text: SHOP