Image: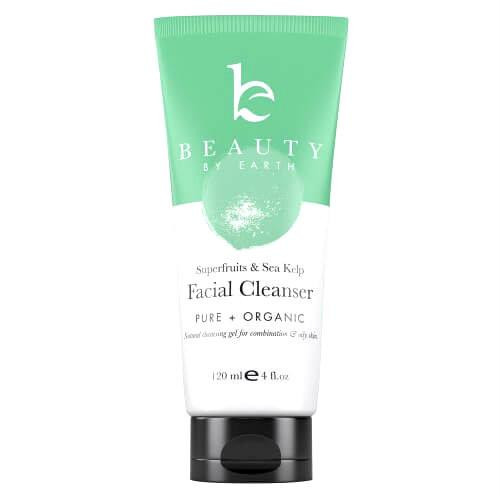 Item #3932
Rating: 5 Stars
Category: Bath & Body
Title: Facial Cleanser – Safe & Chic AmazonAmerican ExpressApple PayDiners ClubDiscoverJCBMastercardPayPalVenmoVisa
URL: https://www.safeandchic.com/collections/beauty-by-earth/products/face-wash
User Selected Text:
Hello Gorgeous! Give that pretty face of yours the treatment it deserves with our Natural Face Wash. Loaded with nourishing fruit oils and extracts, this natural facial cleanser gently cleanses and supports combination and oily skin.<br /> <br /> <br /> FRESH FACED AND FANCY FREE: Dirt, oil, and makeup weighing you down? Boo to that. Give that face of yours the love it deserves with the best natural face wash out there. Our face wash gently cleanses away anything you'd rather not have on your face, leaving you feeling fresh, clean, and utterly uplifted.<br /> <br /> <br /> <br /> TAKE BACK YOUR COMPLEXION: Who says you've got to put up with acne, blackheads, and blemishes? Not us. In fact, it's time you fight back. Reclaim your complexion with the oil-busting powers of fruit. Our special combination of fruit extracts packs a powerful nutritional punch, giving your skin just what it needs to stay clear, clean, and healthy. Bye, blemishes. Hello, the confidence that comes from knowing your skin looks amazing.<br /> <br /> <br /> <br /> PLAYS WELL WITH ALL SKIN TYPES (Even Yours): All faces deserve to feel fresh and clean, so we made a cleanser that's balanced for all skin types. Constantly fighting oil? Our natural face wash will remove dirt and makeup without weighing you down. Dealing with dry or sensitive skin? Natural, gentle ingredients provide moisture without being irritating. Somewhere in the middle? Our cleanser is for you too! Everyone should know how it feels to have a naturally radiant complexion, and you're no exception.<br /> <br /> <br /> <br /> NIX THE NASTIES: Take a look at the leading conventional facial cleansers out there, then take a look back at us. Notice a difference? That's because we never, ever, ever use parabens, phthalates, sulfates, artificial fragrances, or any other sketchy chemicals that could have a negative impact on your health. Instead, we rely on natural, responsibly sourced ingredients that support happy, healthy skin – made right here in the USA. And with no animal testing, you'll never feel guilty about looking great. <br /> <br /> Beauty is not in the face. Beauty is a light in the heart.<br /> True beauty lies in the heart, but a clean, clear face can help it shine through. Our natural, cruelty-free face wash removes makeup, clears away oil and sweat, and cleanses dirt and debris, leaving you feeling fresh-faced, light, and glowing. Chock-full of acne-fighting ingredients, this cleanser will even help keep blemishes from getting between you and your ability to shine.<br /> Who needs harsh soaps and chemicals to look absolutely stunning? Not you. That's why we nixed the toxic ingredients you'll find in conventional cleansers and harnessed the power of our favorite fruits to make the best natural face wash out there. Sea kelp, aloe vera, and fruit extracts work together to clear away oils, makeup, and other buildup while providing the moisture and nutrition your complexion needs to look its best. Everything we put in our cleanser is gentle and natural enough for any skin type to use safely.
CTA Text: SHOP