Image: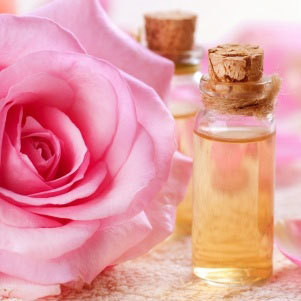 Item #3421
Rating: 5 Stars
Category: Skin Care
Title: Rose Absolute 5% in Coconut Oil - The Harmonious Mind
URL: https://www.theharmoniousmind.com/rose-absolute-5-in-coconut-oil/
User Selected Text:
It is extremely difficult to extract oil from the petals of the rose. The two main ways are first, solvent extraction of a concrete which is then produced into an absolute, or, distillation to produce an essential oil. Production of an absolute gives a better yield, but distillation gives a much finer fragrance.<br /> <br /> Rosa Centifolia, and its close relatives, are cultivated widely in Morocco to produce a Rose concrete, from which an absolute is extracted.<br /> <br /> The product is also known as "rose de mai absolute". The yield of absolute from Rosa Centifolia is somewhat higher than for the Turkish and Bulgarian Rosa Damascena, whereas the yield of the distilled oil is somewhat lower. Thus it is common to find only absolutes coming from Morocco and the distilled oils coming from Turkey and Bulgaria.<br /> <br /> This wonderful oil, taken from the 'Queen of Flowers', has long been popular with manufacturers of skincare products.<br /> <br /> The essential oil has antidepressant, antiseptic, antispasmodic antiviral, aphrodisiac, astringent, sedative (nervous system), heart & circulatory system tonic & emmenagogue properties (to name a few). Rose is good for dry, inflamed, mature & sensitive skin – its also good for inflammation, wounds & redness. It will help to diminish and prevent broken capillaries and thread veins. Its also very useful for insomnia, nervous tension, stress, anger, fear, anxiety & depression.<br /> <br /> Rose has a powerful effect on the uterus. It is cleansing, purifying, regulating and a tonic. It helps to regulate menstruation, relieves cramps and excessive bleeding. Good for infertility, Rose is thought to aid conception and is certainly helpful with it is difficult to predict ovulation dates because of an irregular cycles. Rose is helpful for woman with postnatal depression and where any hormonal changes are present ie: menopause, PMT.
CTA Text: SHOP