Image: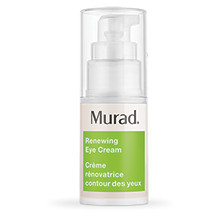 Item #3168
Rating: 5 Stars
Category: Skin Care
Title: Murad Renewing Eye Cream
URL: http://www.muradcanada.com/renewing-eye-cream.aspx/?&utm_source=Affiliate&utm_medium=Referral&utm_campaign=General
User Selected Text:
INGREDIENT SPOTLIGHT <br /> <br /> <br /> <br /> <br /> Wild Yam Extract Wild Yam was used by Native Americans as a traditional remedy for a variety of conditions—especially for pain associated with menstruation and child birth. Modern science has revealed that the Wild Yam provided real relief for these concerns because it is a naturally rich source of phytoestrogens. Since estrogen also supports young skin's plump and youthful appearance, Dr. Murad theorized that phytoestrogens might help Hormonally Aging skin by easing the impact of age-related loss of estrogen. Dr. Murad's found that formulas featuring these non-hormonal phytoestrogens visibly reduced the appearance of fine lines and wrinkles while providing skin with a wide range of youth building benefits including improved hydration, luminosity, resilience, firmness and smoothness.