Image: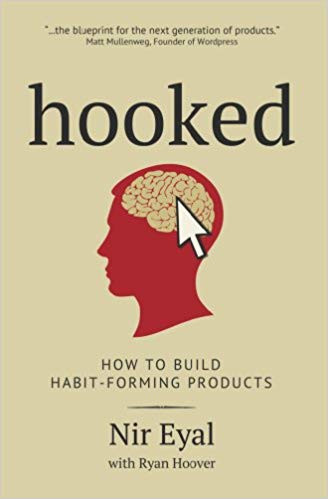 Item #1281
Rating: 5 Stars
Category: Books
Title: Hooked: How to Build Habit-Forming Products |Nir Eyal, Ryan Hoover
URL: https://www.amazon.com/Hooked-How-Build-Habit-Forming-Products-ebook/dp/B00HJ4A43S#customerReviews
User's Notes:
Highly recommended for anyone working on a B2C online product. The 4 key stages of each loop: 1. Trigger: How does the loop initiate? 2. Action: Once the user is aware they need to use your product (through the trigger), what it the simplest action they can perform to get some kind of reward. 3. Variable reward: How are they rewarded for this behavior? 4. Investment: Finally, the user needs to put something back in to increase the chance of repeating the loop.
User Selected Text:
Why do some products capture our attention, while others flop?<br /> What makes us engage with certain products out of habit?<br /> Is there a pattern underlying how technologies hook us?<br /> This book introduces readers to the "Hook Model," a four steps process companies use to build customer habits. Through consecutive hook cycles, successful products reach their ultimate goal of bringing users back repeatedly -- without depending on costly advertising or aggressive messaging.Hooked is a guide to building products people can't put down.
CTA Text: SHOP