Image: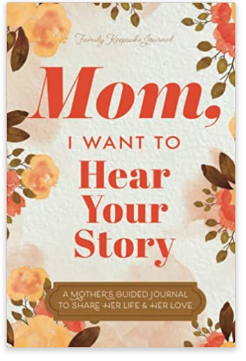 Item #12349
Rating: 4 Stars
Category: Books
Title: Mom, I Want to Hear Your Story: A Mother's Guided Journal To Share Her Life & He
URL: https://www.amazon.com/dp/1081439793/ref=redir_mobile_desktop?_encoding=UTF8&aaxitk=9c4d3a4184a0b9ec23c50534df5bc57f&content-id=amzn1.sym.7dd77237-72be-4809-b5b5-d553eab7ad9d%3Aamzn1.sym.7dd77237-72be-4809-b5b5-d553eab7ad9d&hsa_cr_id=1316629570601&pd_rd_p
User's Notes:
A great way to pass your story down to your daughter! Sometimes there are so many things that our children don't know about us. Things that go unspoken or stories never talked about. Great way to share your story!
CTA Text: TRY IT