Image: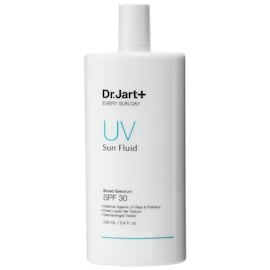 Item #1084
Category: Skin Care
Title: Every Sun Day UV Sun Fluid Broad Spectrum SPF 30 - Dr. Jart+ | Sephora
URL: http://www.sephora.com/every-sun-day-uv-sun-fluid-broad-spectrum-spf-30-P407385?skuId=1800002&om_mmc=ppc-GG&mkwid=s6Ou5k4uE&pcrid=50233218639&pdv=c&site=_search&country_switch=&lang=en&gclid=CInCu53-5swCFQxahgodXgQD4w&om_mmc=aff-linkshare-redirect-QFGLnEo
User's Notes:
The perfect sunscreen for us urban city dwellers. This not only has broad spectrum protection from the sun, but it also creates a cationic shield against fine dust and pollutants. The liquid gel formula is also comfortable and not sticky on the skin too.
User Selected Text:
What it is:<br /> A sunscreen with a fresh feeling that protects from UV rays and fine dust.<br /> <br /> What it is formulated to do:<br /> This formula provides powerful sun protection and a cationic shield that blocks fine dust to protect the skin. By utilizing the characteristics of magnets that repel each other, it is designed to have the same electrical charge as fine dust in order to form a protective skin barrier. Cypress water and seaweed extract purify the skin while soothing and moisturizing. The liquid gel formulation is moist without being sticky to impart immediate moisture for a refreshing burst of hydration.
CTA Text: SHOP